Our first Punch-Down System (PDS) was designed and fabricated for a Central California winery in 1979. Since then, we have produced nearly two-hundred Punch-Down Systems, accommodating the diverse needs of winemakers and architects.
For ease of operation and versatility, the Punch-Down System can be manufactured to be supported by several different mount styles.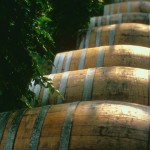 Whether building a new winery or upgrading an existing facility, the PDS will be specially designed to best fit your application, vision, and environment. Contact us for a consultation before signing-off.
The PDS has advanced technologically over time, ultimately allowing trouble-free and employee-friendly operation.
---
Available Punch-Down System Styles:
Tank-Top Bridge
Bin (Mobile) Punchdown
Overhead Bridge
Powered Overhead Bridge
Monorail
Manway Punchdown
Mobile Punchdown
Scissor Lift Mounted
Tank-Top Gimble Mounted
Track Mounted for Bins